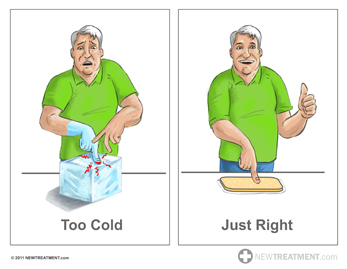 For the last 3 years, RigiGel has offered an improvement over traditional Ice Packs by offering a gel pack so good you can use it from a fridge instead of a freezer. The New RigiGel XC can be safely used from a freezer, but that still doesn't change the importance of the Ice versus Cold warning.
Healthcare workers, athletes and physical therapists were traditionally trained that RICE was the formula to follow immediately following a soft tissue injury. RICE stands for Rest, Ice, Compression, and Elevation.
The truth is that ice is too cold to be the best method for treating pain from soft tissue injuries. The proper solution is RCCE® - Rest, Cold, Compression, and Elevation.. We don't want to apply ice, we want to apply cold that is NOT below freezing. Yes, you want cold - and lots of it - but not so cold that it is below the freezing point of water and body tissue. The problem with ice (and other freezer based substitutes such as the modern day ice pack) is that it can freeze the skin causing 'cold burns'. Ice is even more dangerous if you use it enough that it numbs the nerves and you don't feel the permanent damage that you are doing to the underlying tissue.
Ice pack injuries are so common, there are actually law firms that specialize in representing people who suffer ice therapy injuries. Don't let that happen to you! With ColdCure® pack wraps you are completely safe. You will get the relief from pain and swelling that you need.
Die hard cold lovers would still put traditional ColdCure® packs in the freezer. Even at the coldest freezer temperature they retain all their flexibility and cold capacity. In terms of flex and form they feel exactly the same at 100 degrees as they do at -20 degrees. The new RigiGel XC packs are designed for freezer charging and this gives them the maximum cold capacity and they still operate at a safe temperature. In many cases that may be more cold than you need. Many people choose to put 2 packs in the fridge and 1 in the freezer. When they first put on the wrap they use the freezer gel pack. This gives a maximum cold dose for bringing down even the most severe pain and swelling. After that though, gel packs out of the fridge are ususally adequate to maintain the pain relief at a comfortable temperature level for extended treatment periods. Ultimately the choice is yours, pick the amount of cold that's right for you.